Hi loves! It's a cold and snowy day here, so I made my mom's traditional snowy day recipe, Biscuits and Chocolate Gravy. Yummy!
While whisking the egg for my accompanying mushroom and cheese omelet and admiring the bowl, I thought it would be fun to share my small collection of Anchor Hocking Jadeite. I don't have a massive collection. The pieces I have are all inherited, but I do plan on adding to my collection especially as the collection as it stands now is almost totally the 'Restaurant Ware' Jadeite, which is a bit boresville in the design department. The colour, however, more than makes up for it!
Plates:
I only have one bowl:
C-Handle Mugs:
Jadeite was made between the 1940's and 1970's by Anchor Hocking. They were cheap and affordable and, more importantly, very rugged and hard to break...especially the heavy, chunky restaurant ware. This would account for their use in my grandparents' restaurant back in the 1950's.
All of my pieces are marked with the 1940's Fire King logo:
This indicates that the pieces were most likely inherited by them as well from the previous owners of the restaurant. My grandparents bought the place in 1955.
Another piece that I adore...this one from my other grandmother...is the lotus plate and bowl:
This piece is from the 'home' series of Jadeite that was intended for light, everyday use in the typical post-war American home. It's thinner and much more delicate than the Restaurant Ware. It has a prominent place on my corner cupboard (also inherited from the same grandmother!) in my dining room.
I just love the colour of Jadeite! It goes with absolutely ANY other colour you can pair it with. It works beautifully in my Brady orange kitschen! So well, that I've added some other Jadeite green pieces as well.
This clock was in my other grandmother's kitchen for over 40 years:
Another piece from her kitchen, is a jadeite green knife holder:
She'd painted it at some point. Here's the back with the original tag and what I assume is the colour it originally came in:
I haven't got it hung yet, but I will! Isn't the Art Deco-ness just to die for??!! And goodness knows, the only thing that gets my heart racing as much as Mid-Century is Art Deco!
Another fun piece from my maternal grandparents' original restaurant also resides in my 'kitschen'...the Jadeite coloured Hamilton Beach Drinkmaster:
My mom was so thrilled when we found the original cups for it in my basement! We immediately bought milkshake ingredients and she proceeded to teach me the fine art of soda jerking! Imagine being taught the 'correct way' to make a milkshake on a vintage milkshake maker BY the person who actually used THAT EXACT MACHINE to make them as a teenager back in the the '50s and '60s! She hadn't lost her touch either! Best milkshake EVER!
I have some other pieces of Jadeite green vintage goodness being used in the master bathroom. A flower pot just like this one: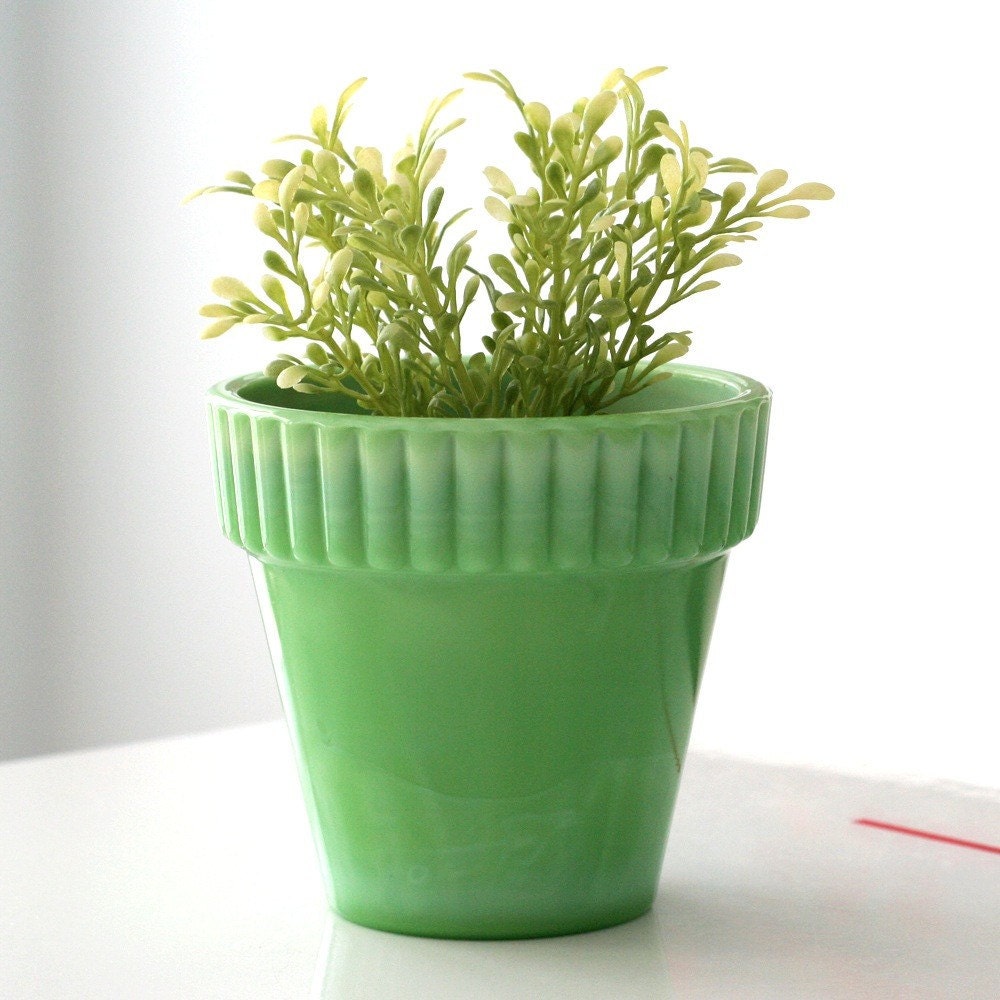 Can't post a pic of the actual one because my mom is currently transplanting some of my grandmother's aloe plant into it for me!
And one of my favourite pieces, a jadeite green soap holder:
I found this guy in an old trunk of my great-grandmother's along with a TON of vintage 1930's-1940's wallpaper.
I want to continue my collection of Jadeite.
Some of my dream pieces....
Refrigerator dish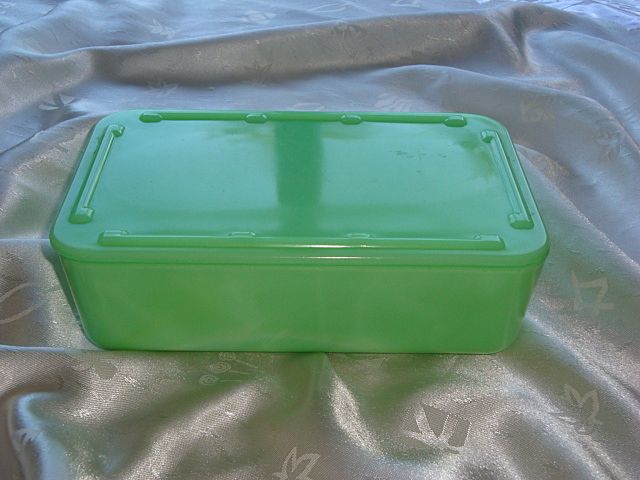 Scottie dog salt and pepper shakers! Couldn't you just eat them up??!!
Pitcher
Do any of you lovelies collect Jadeite? Tell me all about your collections!!
xx