How long has it been since you've made a big pitcher of Kool-Aid? For me, it had been a couple of decades! So, at the grocery store the other day, I snatched up a few packeroos of that powdered gold I remembered from my childhood. I took it home, pulled out the vintage Tang pitcher (I actually have a vintage Kool-Aid pitcher with matching cups, but it isn't super useful and lidded like the Tang version!) and mixed my first batch of my childhood favourite, Black Cherry, since...well...my childhood.
One wee sip and I was 6 years old again. I could see Mr. Kool-Aid crashing through that brick wall. You know you remember that commercial too! "Oh Yeah!!"
Anyway, the whole Kool-Aid and Mr. Kool-Aid thing got my little fingers itching to search for their old ads! Here's what I found!
From 1937...
Wouldja LOOK at those polky dotted glasses!! Whooosh!! And 5 cents?? I thought I'd gotten a bargain at 5 packs for a dollar!!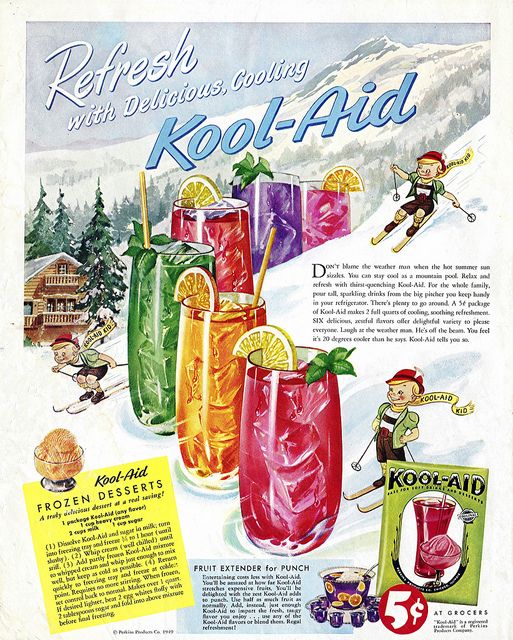 Now we know what the Cambell's Kids do on their winter break! They dress up like Hummels and make frozen Kool Aid desserts...and apparently wash it down with 'Purple Jesus'! Sweet!!
What I've learned so far....Kool-Aid looks ever so much more swank when paired with mint sprigs and orange slices! Oh, and I want her hair. And that tray!!
From 1945....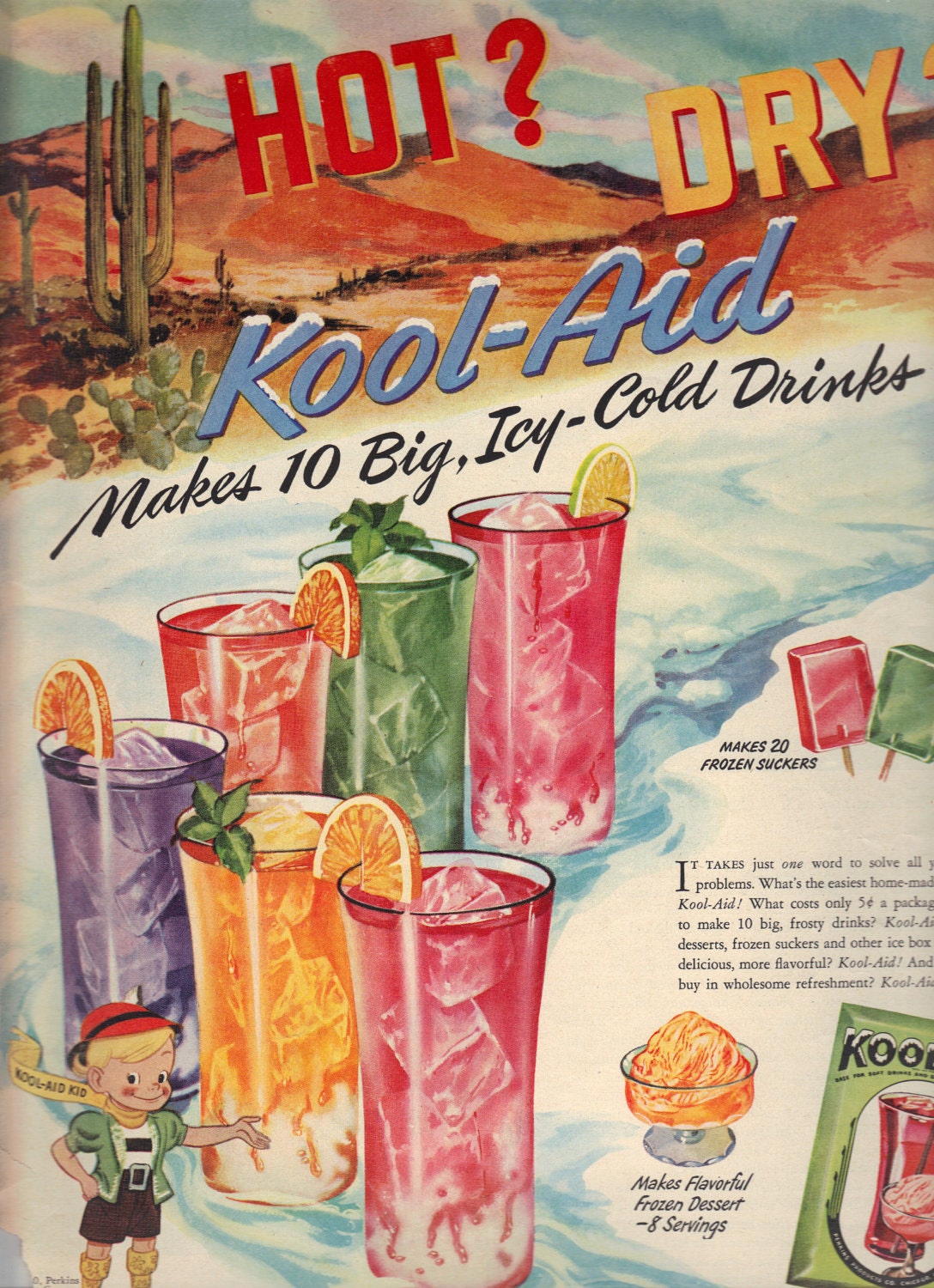 Ohmagosh! Kool-Aid ice tray pops!! Remember those????!!!! All you needed was Kool-Aid, an ice tray, Saran Wrap and tooth pics...baddabing! Ice lollies!!!
From 1951....
Finally, everyone's favourite mixologist...The Drinkmaster General...Mr Kool-Aid!!!
From 1964....
Pre-sweetened, eh? My recent packet called for a whole bloody CUP of sugar! I reduced it to about a half a cup, which apparently my mother and grandmothers and nanny also did because mine tasted just like I remember! And it was plenty sweet! A whole cup would have the above chick and her no bubble flip bouncing off the knotty pine paneled walls!!
I see three of these kids have had their full dose of super sweetened Kool-Aid. Can you guess which ones? Sure you can.
Umm, yeah. I officially want to make Kool-Aid with The Monkees!!
From 1971...
I hear this is where Bill Cosby stole his 'Pudding Pop Face' from.
When was the last time you mixed up a big batch of Kool-Aid? What's you favourite flavour? Do you call the flavours by their name, or do you...like we did as kids...call it by it's colour? Inquiring minds want to know!
Tomorrow...Tang!! Stay tuned, my little pickles!!
Toodles!